AIR partners with North Carolina Trucking Association
2.1.2023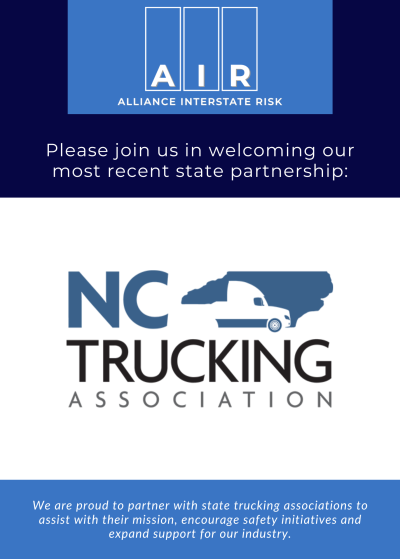 Alliance Interstate Risk Service is pleased to announce its latest state trucking association partnership with the North Carolina Trucking Association (NCTA)! This partnership was announced mid-January to the NCTA Board of Directors. North Carolina joins the Georgia, South Carolina, Virginia, and Alabama state associations in partnering with Alliance Interstate Risk Service to provide their members with an affordable, comprehensive workers' compensation program.
Alliance Interstate Risk Service has been providing workers' compensation coverage, combined with exceptional Risk Management and Claim Management services, to the transportation industry for 30 years. Now, the Alliance Interstate Risk (AIR) program is available nationwide, offering an industry-leading program and services. As an additional benefit, policies written through the AIR program are eligible to participate in our dividend program. Since inception, over $239 million in retrospective dividends have been accrued and distributed, with a 26% historical average annual rate of return. It is our mission to provide affordable coverage, combined with a focus on safety, to help our participants operate at the safest, most profitable level in the industry.
We are proud to partner with state trucking associations to assist with their mission, encourage safety initiatives and expand support for our industry.