Introducing… Alliance Interstate Risk!
6.29.2021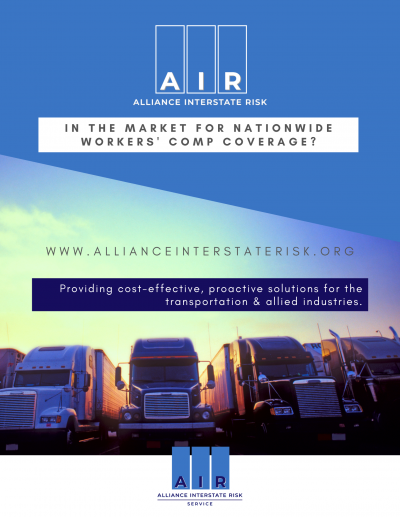 The ATA Comp Fund is pleased to announce the formation of Alliance Interstate Risk, which will now encompass all policies written for exposures outside the state of Alabama. This will allow us to offer our industry-leading program on a nationwide basis. The Alliance Interstate Risk program is fully-insured and coverage is provided by Safety First Insurance Company, a subsidiary of Safety National, an A++ (Superior) AM Best-rated company.
What does this mean for our Agency Partners & Members?
Nothing will change regarding current, in-force policies, only the company from which you will receive correspondence and commissions. Alliance Interstate Risk Service was formed in conjunction with Alliance Interstate Risk and will be the servicing company for this nationwide program.

There are several added benefits with this expansion:
The Alliance Interstate Risk program is now available in 46 non-monopolistic states without an Alabama nexus requirement.
All policies written through Alliance Interstate Risk will be eligible to participate in the dividend program and the same loss-sensitive deductible options are available.
For every Alliance Interstate Risk policy, a donation will be made to the Alabama Trucking Association Foundation to help promote the trucking industry throughout Alabama.
Alliance Interstate Risk Service will strive to partner with other state trucking associations to assist with their mission, encourage safety initiatives and expand support for our industry.
We encourage you to reach out to our team if you have any questions. You can contact our Business Development and Underwriting teams or contact our office at (334) 834-7911.