From DOT Inspection to Trucking Safety
2.28.2022
You see the headlines every day: staffing shortages, driver shortages, labor shortages... The trucking industry has been hit especially hard over the past 2 years. While the driver shortage should always take the spotlight, other roles in our industry will need to be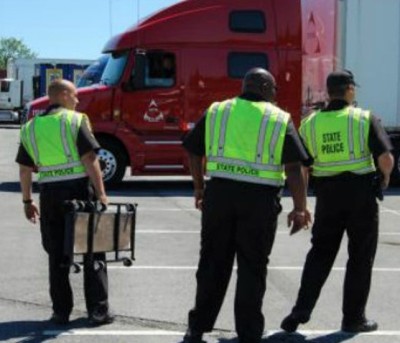 filled as well. Meet Mitch Stone, retired USDOT Inspector from the Arab Police Department in North Alabama, who is an advocate forrecruiting former and/or retired USDOT officers. Risk Manager, Michael Smith, sat down with Mitch to talk about his experience as a retired DOT officer now in the transportation industry.
How long were you a DOT Officer? From 2004-2020, while at the Arab Police Department [in Arab, Alabama].
What were your main duties in your last role there? I was a Sergeant (supervisor) over a uniformed shift, while still performing safety inspections.
What made you want to work for a trucking company? During my years of working in the safety/enforcement side of commercial vehicles, I wanted more experience within the private sector of the trucking/transportation industry. I obtained my CDL ten years ago, which benefited my understanding and allowed me to have hands-on experience within the trucking industry. I also believed that, once I retired, I would have the required training/knowledge to utilize within the private sector.
How has the transition been so far? So far, it has been a smooth change over. I believe the combination of my years as a commercial vehicle safety inspector, then later driving within the trucking industry, allowed a better training/communication approach to new and veteran drivers. I haven't seen any cons yet [4 months].
What is something you wish you would have known before joining a trucking company? I had minimum knowledge of workers' comp claims and injuries within transportation. Having a better understanding of [that] process would have helped.
Would you recommend a position in safety within a trucking company to newly-retired DOT officers? Yes, without hesitation. It's been great for me.
How would a trucking company recruit or advertise to hire a retired DOT officer? [They can] contact a location trooper post or state Law Enforcement Agencies, like the Alabama Law Enforcement Agency (ALEA). Attending roadside inspections with state trucking associations is [also] a great way to make contacts within the law enforcement organizations.
The idea for this article was submitted by Mitch Stone, Transportation Safety Director of MitchellGrocery/B&G Supply Company in Albertville, Alabama.